Late again but here is my Critter for June.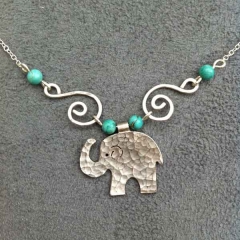 He is pierced from sterling silver with a hammered texture. His ear and eye are pierced. He is 25mm wide by 21mm high. He hangs on a chain augmented by turquoise beads and scrolls of silver wire. As you may know I have a real love affair with elephants since visiting India some years ago. The experience of meeting a real working elephant on the road travelling to the next plantation was a n experience I will never forget and one that had a profound effect on me. This little 'Ellie' is a tribute to him and all the other working elephants in India. I also made some earrings and here they are.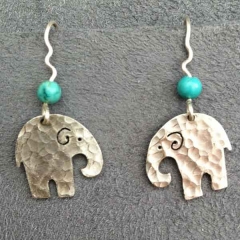 I am working on others of these and they will be a new line at the Surrey Guild Gallery for the Autumn.