Welcome to the latest in a series of articles to do with enamelling and making jewellery. I hope you find them useful. I am writing about issues and problems I have experienced (and hopefully overcome), and tips and shortcuts concerning enamelling and making jewellery that I have come across in the course of the past twenty years or so.
Wolf Tools Belt Sander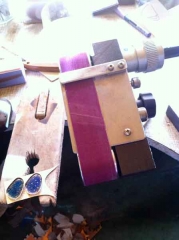 This was delivered by Father Christmas and is proving to be a wonderful addition to my tools. it connects to my Foredom Pendant Motor. It comes with a selection of belts and I am currently using it to sand the bottoms of silver bezels I am making prior to soldering them to a base plate. It is much quicker than sanding them be hand, and they seem to stay in shape much better. It will also be invaluable when I want to solder press-formed shapes together. I always found sanding their bottoms very tedious and I think this will really speed things up. Sutton Tools are the stockist for the UK. What is really interesting is that you can purchase Diamond Belts which I think will be ideal for finishing enamels on a small scale. With the foot control you have a lot of control over speed and of course the necessary water would be well away from the motor. Unfortunately they are not available in the UK, but RioGrande in the States do stock them and a friend who is on holiday there is going to bring some back for me. Can't wait to have a go. If you have any experience of using this tool, I would love to hear from you.